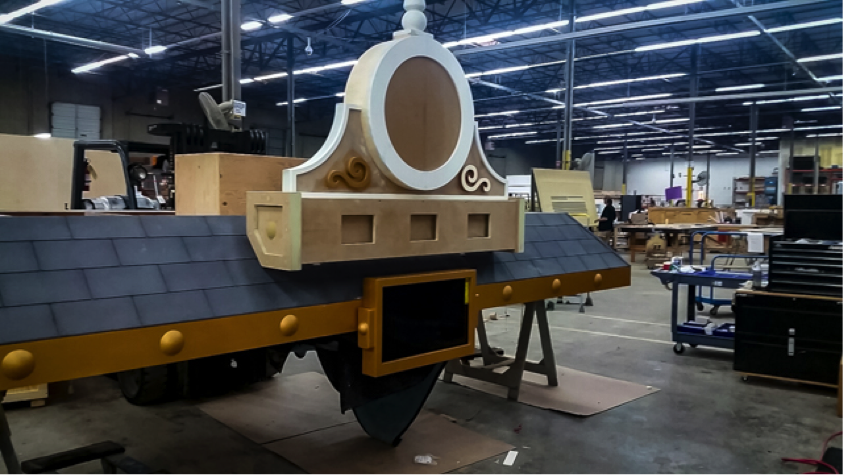 If you are looking for the industry leader in large-scale creative industry painting and finishing services, look no further than ID3 Group. Our slogan has long been "At ID3 Group, we build dreams. Your dreams." And while that is still very much true, we don't simply stop at building your dreams. We can Paint and Finish your creative art dreams as well!
The first step in the process, after all the necessary constructing has been completed, is hard coating. ID3 Group hard-coating booth technology is an amazing leap forward in hard coating technological advancements. While it is most necessary when working with materials like 3D foam sculptures, hard coating can be a handy surface sealer, or can give your constructed materials that really glossy, finished look that you always envisioned.
Once we finish the hard coating process, especially with 3D sculpture or logo art, we can embark on the custom painting job. At ID3 Group, we don't perform custom paint jobs like your average, everyday fabrication firm. We have custom rooms, custom booths, even custom internal housing structures (some measuring over 100 feet in length) to help not just pull off, but COMPLETELY DOMINATE your paint and finish job. At ID3 Group, we refer to this division as Paint & Finish, simply because once we hard-coat and paint your custom creative piece, it literally is FINISHED! Ready to be delivered (we can do that), installed (and that), and after your event has ended, we can even warehouse your creative art (wow!).
If your client has commissioned you with constructing a really cool piece of creative industry art, but you have encountered an impasse with the scope of your own capabilities, ID3 Group can help you! We are ready, willing, and able to help you with any part of the production process. Whether you have sketching, fabrication, construction, painting and finishing, or even delivery, installation, or warehousing needs for your custom creations, ID3 Group is here! Take the DreamBuilder's Tour, contact ID3 Group, or check out more proof of our Painting and Finishing capabilities!